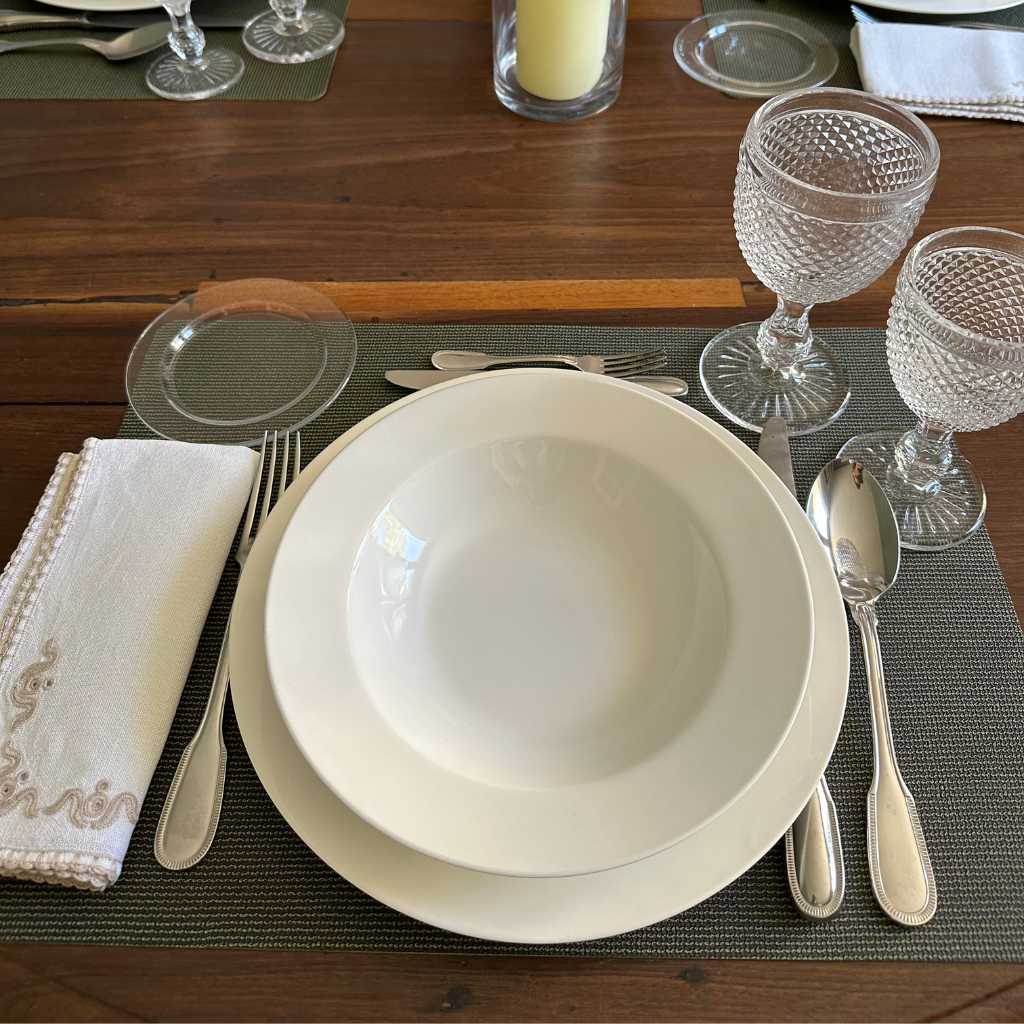 Everything in its place
An entire world revolves around how to set the table, from the oldest and strictest protocol to that creative arrangement that breaks all the rules. For us, any table is valid as long as it produces a visual harmony of both shapes and colors, which does not mean that everything has to be the same, but that you know how to combine it. In this first post of the SET THE TABLE series, we explain what our basics are and how we recommend placing them.
The plate should be placed one thumb's phalanx from the edge of the table. To your right, and matching the edge with the bottom of the plate, the knife. If you are going to serve a soup as first course, you can add the soup spoon to the right of the knife and a soup bowl with its plate on top of the main plate. On the left side we will always find the fork. If you serve fish and have fish cutlery, these are placed in the same way as the normal ones.
The dessert cutlery goes on top of the plate, it is good to have them already placed on the table to avoid getting up during dinner. First, place the knife and/or spoon, with the tip pointing to the left side. On top, and in the opposite direction, we place the fork. The logic behind this provision is to prevent a guest from cutting himself with the knife if he picks up two dessert cutlery at the same time, which is why the knife is placed first, so that the cutting part cannot come into contact with the hand. .
The glasses can be placed on top of the dessert cutlery centered with the plate or, slightly to the right, occupying the space between the knife and/or spoon and the dessert cutlery. Ideally, the smaller glass is placed on the right side and the tall one on the left so that one hand can easily reach both the water and the wine.
We recommend presenting the napkin rolled on itself and inside a napkin holder or folded into a rectangle, both are elegant and sophisticated options. It can be placed on the left or right side or on top of the plate. Although it is not a very common element, we always recommend including the bread plate on the tables. It is not only practical because it prevents crumbs from falling and makes it easier for guests to eat the bread, but it fills the remaining upper left gap between the fork and the dessert cutlery.
With all this you get a basic and elegant table, and all you have to do is start decorating!